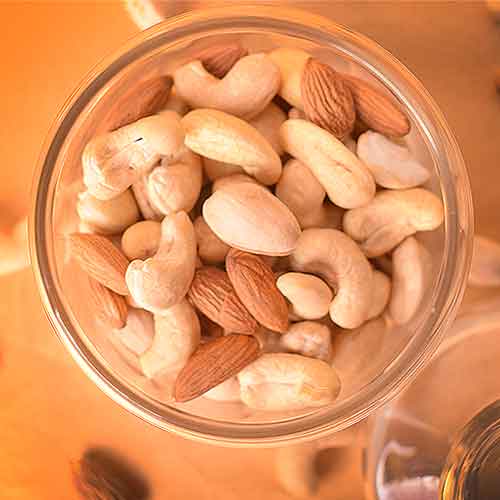 Dry fruits and nuts are enriched with nutrients and beneficial bioactive compounds such as high-quality vegetable protein, fiber, minerals, tocopherols, phytosterols, and phenolic compounds. Apart from nutrients, they supply energy and warmth to the body. Studies reveal that the consumption of various tree nuts and dried fruits significantly reduces the risk of gallstones and coronary heart disease in both the genders and type two diabetes in women.
Small-scale research also suggests that they lower the risk of hypertension, bad cholesterol, cancer, and inflammation. Additionally, having dry fruits and nuts reduce oxidative stress, blood pressure as well as visceral adiposity. Contrary to popular belief, the regular consumption of nuts contributes to weight loss instead of obesity. Dry fruits and nuts should be incorporated into the regular diets of both children and adults, keeping allergies in mind.
Nuts and dry fruits have been a part of humankind's diet from pre-agricultural times. Off late, they are eaten as a healthy and satisfying snack, as a part of desserts, eaten whole, preserved or candied, along with cereal, in ice creams, biscuits, and other baked goods.
The consumption of dried fruit and nuts has significantly increased globally due to many guidelines that offer their inclusion into diets for a healthy lifestyle.
Fruits that lose most of their water content through artificial methods become dry fruits – raisins, prunes, apricots, and figs are good examples. They are densely packed with nutrients and have a much longer shelf life than fresh fruits.
Dried fruit often contains about four times the nutrients (fiber, minerals, and vitamins) as their fresh counterparts. Thus, a small serving of these fulfills a substantial percentage of the daily recommended intake value of several vitamins and minerals.
They also contain polyphenol antioxidants- which are associated with various health benefits such as increased blood flow and improved digestive health among others.
For people who are interested in losing weight, fresh fruit is preferable since it offers more quantity as well as water. Thus, fresh fruits aid in weight loss. Dry fruits are the calorie-dense counterparts that help you stay full for longer.
Dry fruits are healthy but only in a well-maintained diet. We should always remember that dry fruits can be considered as small, concentrated packages of sugar. So, it is wise to not think of them as meal replacements, but instead, as supplements.
Dry apricots, apples, prunes, pumpkin seeds, figs, currants, and cranberries are very healthy. Nutritious dry fruits such as cashew, walnuts, and almonds have long shelf lives and can be carried around easily as healthy snacks too much on to combat those hunger pangs.
You can eat these just by themselves as treats or in desserts and delicious dishes. There are many delicious and simple recipes that use dry fruits as ingredients. Stews, desserts, salads, porridge, and many other dishes utilize dry fruits as ingredients.
Some of them are listed as below –
Sweets made out of dry fruits such as laddoos, barfis, and modaks
Incorporating dry fruits into Indian sweet items can be the best way to add an extra packing of nutrition to combat the guilt after consuming so much sugar!
Christmas fruit cake/plum cake
Everyone knows that a Christmas celebration is practically incomplete without a glorious Plum cake studded with dry fruits. Did you know that the tradition of Christmas Plum Cakes began when people would eat porridge to line their stomachs after a whole day of fasting? Soon, this porridge was embellished with honey, dried fruits, and spices which eventually led to it becoming a pudding – and finally, a cake.
Dry fruit Milkshake
The addition of dry fruits into milkshakes just by themselves or along with fresh fruits adds a kick of nutrients along with enhancing the overall richness. Dry fruit milkshakes can be had in the morning for a power-packed breakfast meal!
Kashmiri Pulao
Along with a fragrant blend of spices and long-grained rice, dry fruits add a touch of royalty to this famous dish hailing from Northern India. The rice, after being cooked in milk, is loaded with cashews and almonds.
Kesar Pista falooda
It is a known fact that the combination of fragrant saffron and the nutty taste of pistachio is unbeatable. Along with these two, Sabja seeds are added to condensed milk to make a rich, creamy dessert that is a hit with most Indian sweet-lovers.
As an addition to fruit salads and oats
Oats and Fruit salads can be greatly enhanced in terms of nutrition as well as flavor and texture with the addition of dry fruits.
Bhookha Haathi's 100% natural dry-fruit refresher and health booster are packed with the benefits and goodness of dry fruits such as Almonds, Cashews, Pistachios & Raisins. They are a great supplement for proteins, vitamins, minerals, and dietary fiber. Additionally, they are enriched with minerals, electrolytes, antioxidants & phytonutrients which boost energy and lower bad cholesterol. What's more, you can replace the regular nuts with our health booster in any of the recipes mentioned above as well as add them to salads & cereals for enhanced health benefits. Choose from Bhookha Haathi's range of nut-based honey for your guilt-free sweet cravings.
Written by: Jahnabee Adhikari
Jahnabee is a part-time blogger, full-time dog lover. She believes that writing actually possesses the potential to change the world. She can be often found fantasizing about poetry or buried nose-deep in a Sudha Murthy novel.