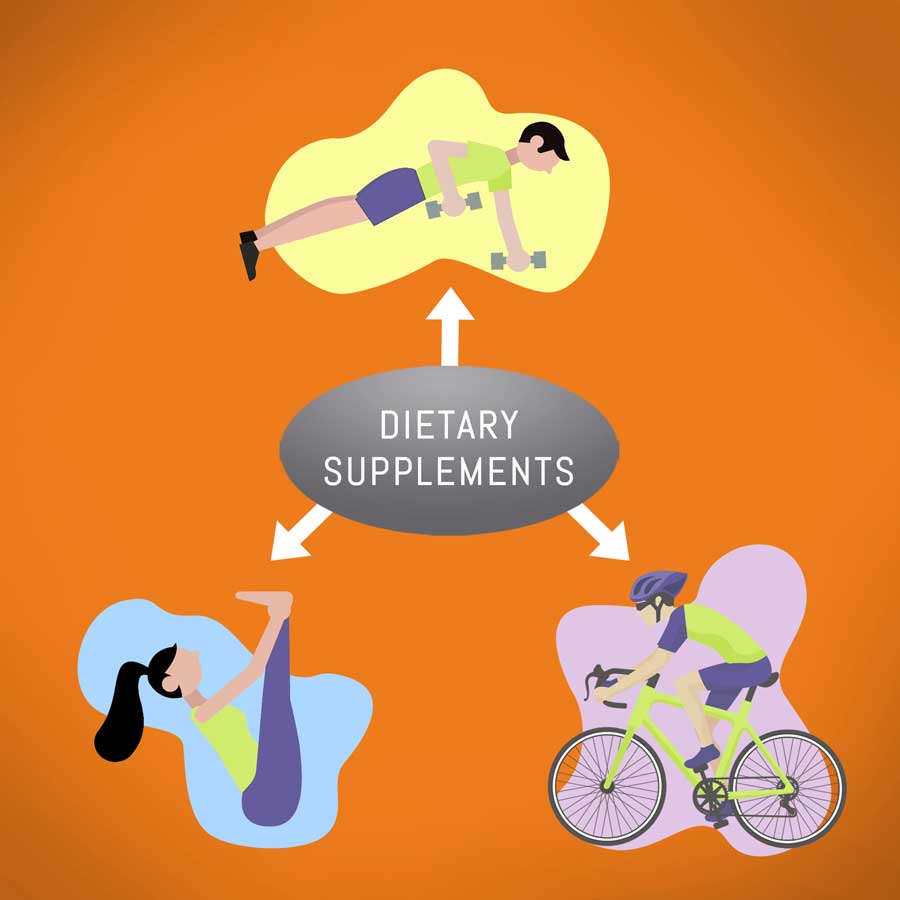 Dietary supplements to enhance exercise and athletic performance are available in a variety of forms. They may be found in the form of pills, powders, or liquids. These products contain various ingredients in different combinations. Some common ingredients include protein, arginine, creatine, glutamine, and ribose.
These dietary supplements usually aim to aid in the process of building good health and physique for better performance and do not serve as a replacement to whole meals and a well-balanced diet.
Some athletes perform in certain extreme conditions such as high altitudes or temperatures. High-temperature results in the rapid loss of electrolytes through fluid and high altitudes lead to lower haemoglobin-oxygen binding. These situations, among others, require the usage of dietary supplements. These supplements could provide carbohydrates, vitamins, minerals, iron, and protein, among other nutrients.
Despite the proper intake of nutritious meals and such dietary supplements, the result varies widely depending upon each individual's specific metabolism, the nature, duration, and intensity of the training they undertake and environmental factors.
Some surveys revealed the amount of dietary supplements taken up by bodybuilders and by athletes who want to perform better. Evidence suggested that elite athletes (e.g., professional athletes and those who compete on a national or international level) use dietary supplements more often than their non-elite counterparts.
Some surveys conducted internationally showed that around 75% of adult elite track and field athletes that participate in championships held globally took at least one dietary supplement containing aforementioned ingredients. The usage of supplements was seen to be in increased amounts with an increase in age as well as among participants that were women.
The supplements used by male and female athletes are similar, except that a larger proportion of women use iron and a larger proportion of men take vitamin E, protein, and creatine
Here are some ingredients commonly found in supplements and their uses.
| | |
| --- | --- |
| INGREDIENT | USE |
| Antioxidants | Minimizes free radical damage to skeletal muscle |
| Caffeine | Reduces perceived pain and exertion |
| Iron | Increases oxygen uptake, reduces heart rate and decreases lactate concentrations during exercise |
| Protein | Builds, maintains and repairs muscle |
| Soda Bicarbonate | Enhances disposal of hydrogen ions generated from intense muscle activity, thereby reducing metabolic acidosis and resulting fatigue |
Similar to all kinds of supplements, those which enhance performance have the potential to create certain side effects. Some ingredients in these supplements may react with those present in over the counter or prescription medicines.
For example, ginseng reduces the blood-thinning effects of warfarin. Cimetidine can cause a decrease in the speed of removal of caffeine from the body, thus resulting in its accumulation.
If you take dietary supplements and medications on a regular basis, make sure to consult with your healthcare provider.
The Food and Drug Administration marks some substances in certain supplements as inappropriate, unlabeled, or unlawful. They might be stimulants, steroids, hormone-like ingredients, controlled substances, prescription medications, or unapproved drugs. Using these tainted products can cause health problems and disqualify athletes from competitions.
If you are a competitive or recreational athlete, you will perform at your best and recover most quickly when you eat a nutritionally adequate and supplemented diet, drink enough fluids, are physically fit, and are properly trained.
Dry fruits are a great source of proteins, vitamins, minerals, and dietary fiber and Bhookha Haathi's proprietary range of dry fruit and nut-based health booster powders are a great alternative to unnatural protein powders commonly available in the market. Enriched with Vitamins, Minerals, Electrolytes, Anti-Oxidants & Phyto-Nutrients to boost energy, Bhookha Haathi's Natural Dry Fruit Health Booster is ideal for sports, gym & fitness enthusiasts.
Written by: Jahnabee Adhikari
Jahnabee is a part-time blogger, full-time dog lover. She believes that writing actually possesses the potential to change the world. She can be often found fantasizing about poetry or buried nose-deep in a Sudha Murthy novel.